Tower Two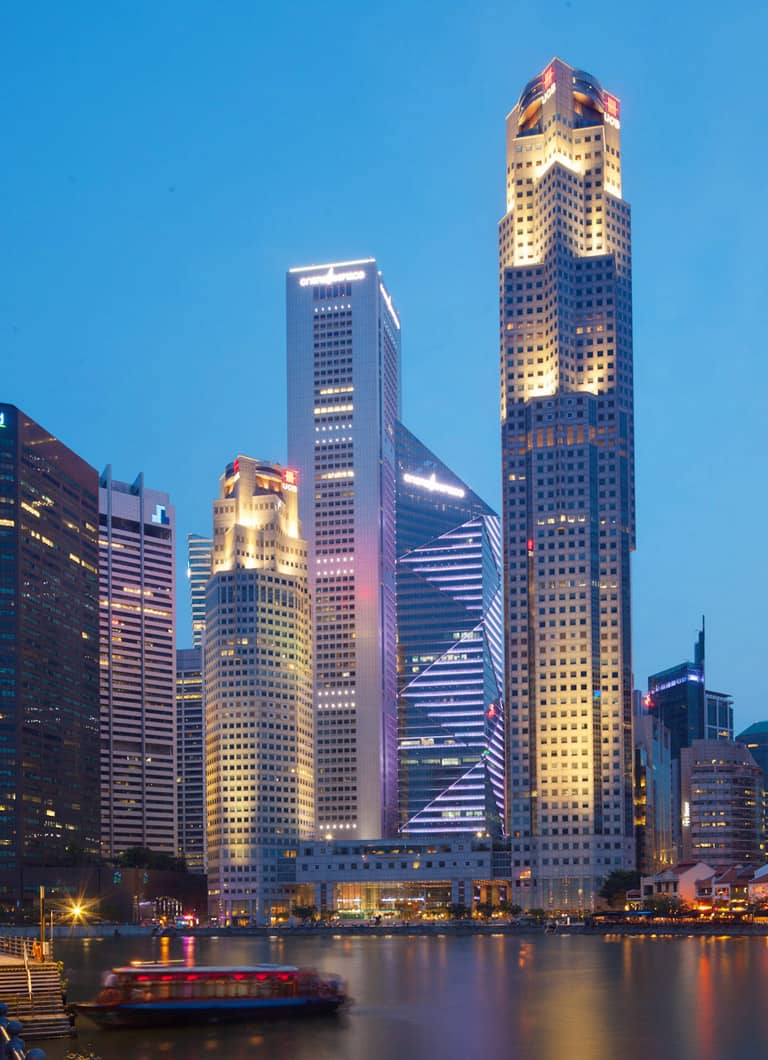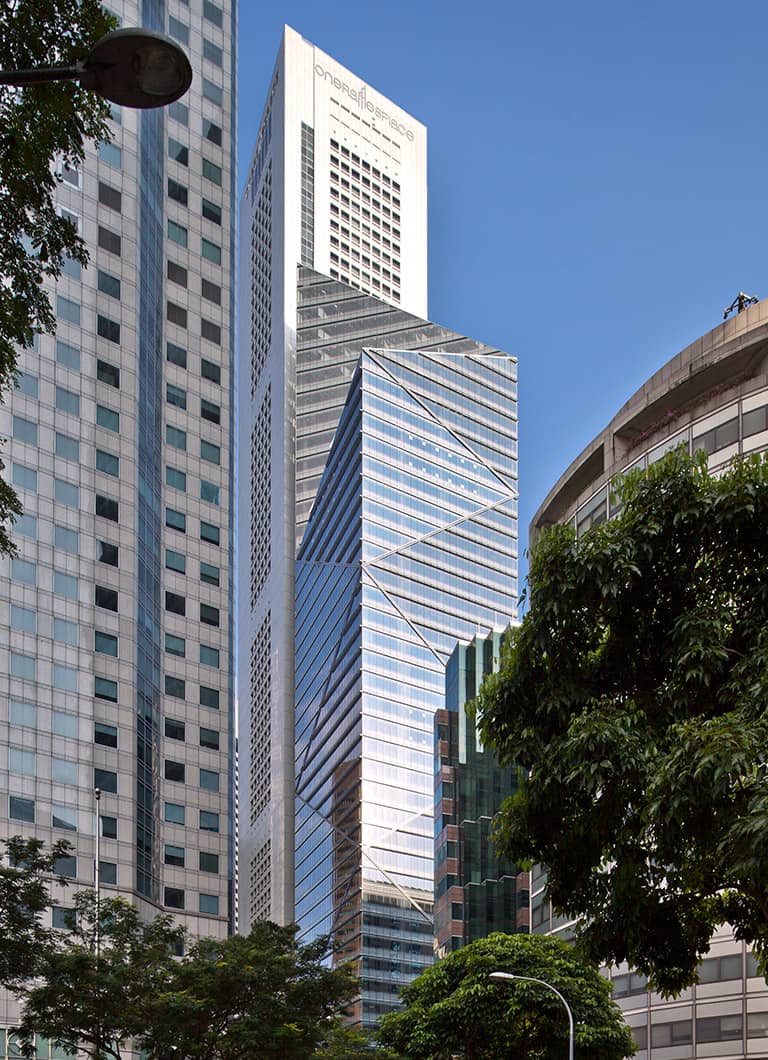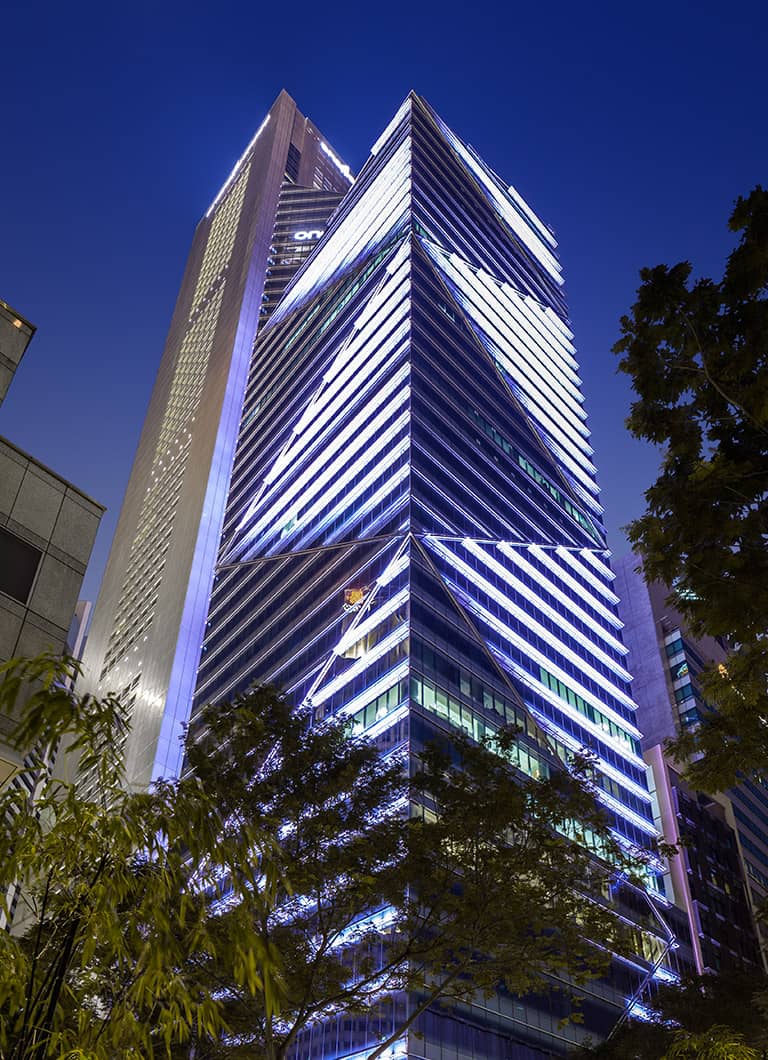 One Raffles Place Tower Two was designed by Paul Noritaka Tange, son of the late Professor Kenzo Tange. Paul Noritaka Tange showcases his architectural and artistic flair with his own contemporary silhouette for Tower Two, which was constructed alongside his father's iconic triangular theme for Tower One decades prior. With its crystalline façade embellished with bold lighting effects, Tower Two is a complement to the existing Tower One, adding a new dimension to the Singapore skyline.
The prime Grade-A office tower offers an expansive floor plan of approximately 11,000 square feet of office space. Its column-free feature and built-in raised floors facilitate easy configuration and in-floor cabling for tenants.
A Certified BCA Green Mark Gold Development
One Raffles Place Tower Two is certified with the Green Mark Gold Award by the Building & Construction Authority (BCA) in recognition of the energy efficiency and environmentally sustainable design. Its cutting-edge silhouette entwines aesthetic finesse with eco-friendly green features like double glazed Low Emission (Low E) glass, photovoltaic cells, rainwater harvesting and more.

Energy Efficiency The intelligent combination of high-efficiency energy-saving Building Management Systems, solar cells, energy-saving light fittings, double glazed Low E glass and air-conditioning system to reduce overall energy consumption.

Solar Energy High-efficiency photovoltaic solar cells to convert solar energy into electricity.

Indoor Environmental Quality Highly efficient central air-conditioning system that regulates fresh air and provides quality air filtration for the office.

Motion Sensor Use of detection device regulates lighting based on human movement to reduce unnecessary waste of energy.

Green Label Products Extensive use of eco-friendly building products and materials within and outside the building such as low VOC paint and green drywall.
Water Efficiency Rainwater harvesting, recycled NEWater and sanitary wares and fittings with water-saving features to achieve water efficiency.
Other Features
Net Lettable Area Approximately 350,000 sq ft nett leaseable area of Prime Grade A office space
No. of Office Floors 38 floors
Typical Floor Plate Approximately 11,000 sq ft
Total No. of Car Parking Spaces 314 lots, full ERP Electronic Parking System
Security System

24-hour CCTV monitoring at all main entrances and exits
Card Access Control for turnstile at 1st storey lift lobbies, controlled access for carpark lift lobbies

Air-conditioning and Mechanical Ventilation

Central chilled water air-conditioning system.
Mechanical ventilation to staircase, smoke-stop and firefighting lobbies and toilets.